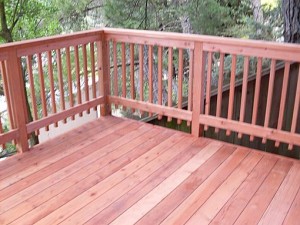 A&J Fencing uses redwood for our projects because it is the best and longest lasting material for a wooden deck or fence. Our redwood is cut thicker than the average fencing wood and we bring it in directly from the mill. Using warm, durable redwood, we build beautiful custom fences as well as decks of any shape and size. But even the best wood fence or deck is susceptible to rot and decay simply because it's exposed to environmental elements. Here are 5 key ways that you can protect your redwood structure year round.
Remove debris and repair. Though a little weathering is often a characteristic that many homeowners find desirable in a redwood fence or deck, before you know it years can go by and your structure has been exposed to environmental elements such a droppings from trees and birds, wind, dirt and rain. First, clean your fence or deck by removing any debris that may have become trapped between the boards. This is best done by using a metal putty knife; don't use anything sharp like a knife that could knick your boards. Then use a brush or leaf blower to clear any leftover debris.
Check for any structural damage and repair loose boards. Inspect for loose nails and hammer them back into place and reinforce loose boards with galvanized coated screws. Coated screws won't rust in wet weather and provide a more durable bond than nails.
Scrub your fence clean. This step will remove dirt, grease, stains and mildew. Use a stiff fiber brush and wood cleaner to scrub your wood fence or deck. Follow the manufacturer's instructions on cleaning products. Some common cleaning solutions include a mixture of TSP and water, Simple Green and even household laundry detergent will work. Scrub in the direction of the grain, working with small areas and rinsing clean with water. After scrubbing allow your structure to dry for several days.
Apply a protective seal. Use a high quality deck stain product, we use Preserva Wood Redwood tinted stain, to enhance the natural color of the redwood. Slightly tinted transparent stains will last longer and protect the deck or fence longer. A high quality product like Preserva Wood with high UV protection and water repellent will give the best results. Use a brush or a roller to apply the stain to your redwood structure. Apply the finish on a cool day without wind, don't treat your deck in the hot sun. The temperature should be between 50 and 70 degrees. Recommendations vary on how often to stain your deck but we recommend every 3-5 years.
Keep structure clear of vines and away from sprinklers. You may think that the ivy looks nice crawling up your fence, but the less weight on a fence the better. Vines will keep the wood moist and contribute to it rotting faster. Also keep sprinklers away from your fence or deck as direct contact with water will cause boards to rot and decay much more quickly.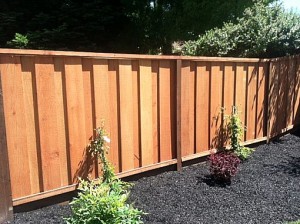 If you don't want to do it yourself, we'll do it for you. A&J fencing has a team of specialists on hand to seal and protect your Redwood structure. Just contact us for more information.
Share via social media
/wp-content/uploads/2016/04/logo_darkblue.jpg
0
0
admin99
/wp-content/uploads/2016/04/logo_darkblue.jpg
admin99
2012-08-14 17:57:15
2020-11-26 09:59:53
5 Important Ways to Care for Your Redwood Fence or Deck