Fairfield Fencing Contractor & Deck Builder
A & J Fencing is a family owned custom fencing company and deck builder that has been servicing Fairfield and the East Bay area for over a decade.
Our services include: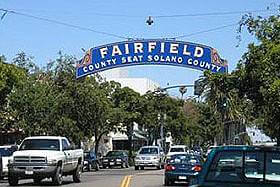 Custom Redwood Fences
Wrought Iron Fences
Deer Fencing
Fence Repair
Redwood Decks
Patio Covers
Retaining Walls
Iron Gates & Railings
Arbors & Pergolas
Fairfield, CA is frequently referred to as the midpoint between the neighboring cities of San Francisco and Sacramento, and is literally minutes from the surrounding wine country of Napa, Sonoma, and Suisun valley. It is also home to the Travis Air Force Base.
Archeological findings from the area show it to among the earliest Native American settlements for all of California, dating back some 5,000 or 6,000 years ago. The first outside settlers were from Spain, and arrived in 1810 with orders to remove the local Indian population.
Visitors to the area today find many family friendly activities, such as visiting natural and organic locally grown farm stands, hiking the many scenic trails, or renting kayaks for the nearby lakes. Here you will also find several nearby theme parks including Six Flags Discovery Kingdom and the Scandia Fun Center. And regardless of your age, consider taking a factory tour at the nearby Jelly Belly plant or the famous Anhueser-Busch tour. Who says there is only wine tasting in wine country?
Contact us today about your Fairfield redwood fencing, decking and patio cover needs.
Share via social media