Benicia Fencing Contractor & Deck Builder
A & J Fencing is a family owned custom fencing company and deck builder that has been servicing Benicia and the East Bay area for over a decade.
Our services include: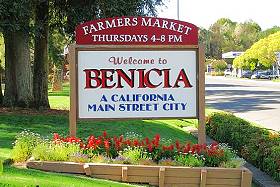 Custom Redwood Fences
Wrought Iron Fences
Deer Fencing
Fence Repair
Redwood Decks
Patio Covers
Retaining Walls
Iron Gates & Railings
Arbors & Pergolas
Benicia, CA served for a short period of time as the state capital, from 1853 until 1854. Located on the north bank of the Carquinez Strait, it serves as part of the greater San Francisco bay area.
One of the most interesting sections of Benicia today is called the Benicia Arsenal. This former US army armory has been converted by the city into housing and work quarters for the area artist's. The area also is home to several historic buildings which include the Camel Barn, the Clock Tower, and the famous Jefferson Street Mansion.
The area was also home to the first women's college west of the Rocky Mountains, Mills College. Established in 1852, the campus was later moved to its current location in Oakland.
When the US army initially closed the Armory, it was financially devastating to the area. The decision by Benicia to buy the area and convert it proved to be financially rewarding. The completion of the Benicia – Martinez Bridge in 1962 helped change the area forever. It allowed Benicia to become a viable suburb for both Oakland and San Francisco.
Contact us today about your Benicia redwood fencing, decking and patio cover needs.
Share via social media