Vallejo Fencing Contractor & Deck Builder
A & J Fencing is a family owned custom fencing company and deck builder that has been servicing Vallejo and the East Bay area for over a decade.
Our services include: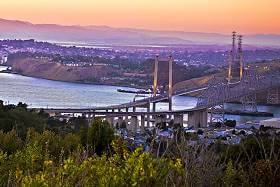 Custom Redwood Fences
Wrought Iron Fences
Deer Fencing
Fence Repair
Redwood Decks
Patio Covers
Retaining Walls
Iron Gates & Railings
Arbors & Pergolas
Vallejo, CA is now known for its famous Six Flags Discovery Kingdom theme park, which draws both local residents and visitors from far around.
One little known fact about Vallejo is that it once served, for the short period of two years in 1852 and 1853, as the state capital. It is the largest city in Solano County, and the 10th most populous city in the greater San Francisco Bay area.
Vallejo was originally inhabited by Native American tribes which included the Coastal Miwoks, Suisunes and other Patwin tribes. It was later part of a Mexican land grant which drew settlers to the area. In 1902, the areas first Europeans were drawn to the Vallejo area by the naturally occurring sulfur springs.
Contact us today about your Vallejo redwood fencing, decking and patio cover needs.
Share via social media