Discovery Bay Fencing Contractor & Deck Builder
A & J Fencing is a family owned custom fencing company and deck builder that has been servicing Discovery Bay and the East Bay area for over a decade.
Our services include: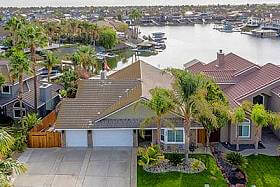 Custom Redwood Fences
Wrought Iron Fences
Deer Fencing
Fence Repair
Redwood Decks
Patio Covers
Retaining Walls
Iron Gates & Railings
Arbors & Pergolas
Discovery Bay CA is located in the East Bay area of Northern California. It was neither a town nor a city initially, but a planned community.  Started in 1964, it was originally referred to as River Lake or Riverside.  Built on land originally known as the Byron Tract, for many years the area was used for the growing of potatoes and barley.  The community owes its current use to Jurgen Lunding, who in 1968 led the effort to establish the creation of Discovery Bay.
Discovery Bay was officially placed on the map when it no longer had to share a zip code with the nearby establishment of Byron.  Originally a weekend destination, Discovery Bay is now a year-round community.  It attracts many retirees looking for a sunny locale with a definite small town ambiance.  The Delta offers over 1200 miles of waterway.  Boating is an attraction, as well as other water related activities.  Discover Bay is also home to a deep water harbor capable of housing yachts and other smaller boats.
These local waterways can be used to access San Francisco Bay, allowing the residents to set course to any locale they wish.  Other activities available to residents and visitors include fishing, water and jet skiing, and wakeboarding.
Discovery Bay Country Club offers a challenging golf course designed by Ted Robinson, attracting both local residents and tourists. There is never a shortage of things to do in this community, where over 60% of the developed homesites are found in the original part of town. The temperate climate and mild winters are perfect for everyone who enjoys a California lifestyle, and two shopping centers and restaurants offer additional opportunities for people living here year round.
Contact us today about your Discovery Bay redwood fencing, decking and patio cover needs.
Share via social media