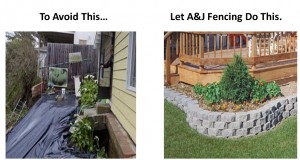 Especially during the winter months, naturally occurring erosion and landslides can be a problem. This is particularly true for hillside properties in the Bay Area, where erosion is a constant worry for homeowners. By leveling part of the landscape and filling in low areas, building a retaining wall can protect an entire property or just a section of land, such as a raised garden bed, from this threat. Many think that retaining walls can decrease the aesthetic appeal to a property, but a quality constructed retaining wall can actual add to curb appeal.
Retaining Wall Options and Benefits
There are two major types of retaining walls available: wood and legacy block. Wood retaining walls can be made from sustainable resources such as certified managed redwood forests, while legacy block retaining walls are made from attractive natural stone, brick, or specially formed concrete. Both types of wall are available in a variety of styles to compliment the natural landscape and architecture of the home, and have the following additional benefits:
Add desirable privacy to backyards, pools, and other areas
Acquire more useable property by holding back erosion and water seepage
Help protect buildings from mudslides and other unexpected earth movements
Planning a Retaining Wall That Will Last
In order to assure the longevity and performance of a retaining wall, it is recommended that land owners use a certified retaining wall contractor on their projects. An effective retaining wall must not only be visually attractive, but must also be fortified with the correct materials in an area that has been properly prepared for the wall.
Only a contractor experienced in building these types of walls has the necessary knowledge to successfully take on these projects. It is also helpful to choose a contractor who understands how the different existing features of a property such as fencing and decking can impact such a project, and who can coordinate and integrate new features seamlessly with minimal disruption.
The specialists at A & J Fencing have years of experience building fences and retaining walls for East Bay customers and offer attractive options at the most competitive prices to customers within the Bay Area service zone. A & J Fencing would be happy to provide a bid for your project. If you are a property owner in need a retaining wall in Walnut Creek and surrounding East Bay communities, contact us today at 1-925-521-6461 to find out how you we can help add to your property's attractiveness while preventing erosion
Share via social media
/wp-content/uploads/2016/04/logo_darkblue.jpg
0
0
admin99
/wp-content/uploads/2016/04/logo_darkblue.jpg
admin99
2012-12-18 15:20:36
2020-11-26 09:58:48
Add Curb Appeal and Protect Against Erosion with a Retaining Wall