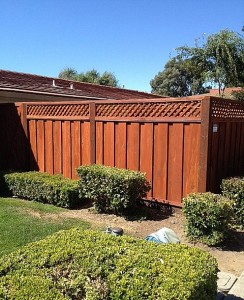 Years of weather and use can wear down even the strongest fence over time. That's why A & J Fencing not only builds your custom redwood fence from scratch but also specializes in fence repair in Walnut Creek and throughout the Bay Area.
It's important when repairing a fence to stick with the highest quality materials, like we do with all our fencing and decking projects. We prefer redwood for it's natural resistance to rot and decay. And just because a section of fencing is bad, it doesn't mean the whole fence has to be replaced. Just follow our easy fence repair tips.
Fence posts, or any part of the fence that has been buried in the ground, are particularly susceptible rot and decay. Bottom rails and the bottoms of screening can decay if they have been in contact with water or vegetation that helps trap moisture. Always try to keep vegetation clear of your wood fence. Carefully inspect fences at least once a year paying attention to the areas that might be susceptible to rot. When you find a problem, repair the fence right away before damage spreads.
Repairing Fence Posts
Since your fence posts are the foundation of your fence's structure, obviously it is important to make sure all posts are sound as one rotten post can take down a portion of or an entire fence. First determine if a wobbly fence post is completely rotted. If not it can be splinted or staked instead of replaced. Brace the post by hammering a pair of 2×4's, one on each side of the post. If the post is loose in the posthole, brace the post by driving stakes into the posthole along the sides of the post to pinch it into place. And if necessary pour concrete around the post's base for a secure fit. If the post is completely rotten, you will need to dig out the post and concrete base, replace the post and pour a new concrete base.
Repairing Fence Rails
If a rail has come loose from one or more of its posts it may be salvageable. Mend the break by hammering two pieces of 2×4 scrap directly under the damaged rail with galvanized nails or use metal T-braces. If the rail is rotten, replace the entire rail. To do this you'll need to disassemble the entire section of fence. Cut new rail lengths of 2X4 so they fit tightly against the fence posts. Nail rails into place with angled galvanized nails then replace fence boards. Measure and cut the fence boards to a uniform length. Nail boards to one side of the rails starting at one end. Leave a space equal to a single board width between each. Secure each board to the rails with two galvanized nails at the top and two at the bottom. Nail tops first, then nail the  bottoms, pushing the bottom rail into alignment as you go.
Repairing Fence Gates
If a gate looks like it's sagging or not closing properly, the first thing to do is check for bent hinges. Gate hinges can become bent over time from wear, from the gate's own weight, or from people leaning or pulling on them. Replace hinges using galvanized steel hardware, Repair holes and re-drill new holes for new screws or carriage bolts.
Contact us for any fence repair needs or if you need advice on repairing your fence on your own. Keep your wood fence in great shape year round by inspecting, cleaning and treating your wood and keeping it free of brush and vegetation. Read our blog post here for tips on how to care for your redwood fence.
Share via social media
/wp-content/uploads/2016/04/logo_darkblue.jpg
0
0
admin99
/wp-content/uploads/2016/04/logo_darkblue.jpg
admin99
2013-01-16 13:52:08
2020-11-26 13:54:39
Repair a Fence Right Away Before the Damage Spreads