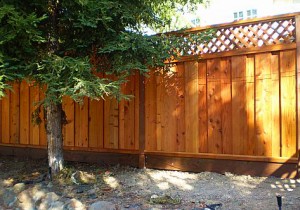 Winter in the San Francisco Bay Area is a great time to schedule a fence repair project. As certified fencing contractors in the East Bay, we are ready to work on your customized fence, repair, or retaining wall projects. One advantage of having fences and retaining walls built during the cold weather season is that it's easy for us to work quickly without disrupting landowner's use of the property, as sometimes happens in the warmer months when outdoor areas see more use. Plus, scheduling a fence repair or maintenance project during this time is easier than one might think.
Common Problems Solved by Fence Repair
Even the highest quality fence may eventually need repair. As fences are exposed to the elements year round, wear and tear leads to repair needs, as can less common incidents such as severe storms. However, unsightly damage to fences is typically more easily repaired than looks might suggest. Rather than expensive full fence replacement, repair can cost-effectively target problem areas such as:
Reinforcing hinges or gate frames
Replacing missing or broken fence boards
Repairing loose or rotted fence posts
Most damage to wood, composite, and other types of fencing can be fixed through simple fence repair. In fact, it is fairly rare for a fence that has been regularly maintained to need full replacement after most types of damage, as long as the restoration is done in a timely manner.
Finding Quality East Bay Fence Repair Services
When a fence needs repair, it is best to contact a contractor as soon as possible to fix the damage. This is because certain types of damage, such as wood rot, rust, or sagging fence sections, can spread to the rest of the fence and raise the overall cost of repair. In some cases, such as in storm damage, these repairs may even be covered under insurance.
A & J Fencing handles fence repair projects large and small throughout the Bay Area. A & J Fencing's experts are equipped and ready to work on all types of fences, including redwood, ornamental, deer, and gate fences. Take a look at our portfolio and contact us at 925-521-6461 for a quote on your fence repair project so that you can have a fully restored and attractive fence by the time spring rolls around.
Share via social media
/wp-content/uploads/2016/04/logo_darkblue.jpg
0
0
admin99
/wp-content/uploads/2016/04/logo_darkblue.jpg
admin99
2013-01-03 15:09:58
2020-11-26 09:58:42
Best Time to Schedule Fence Repair Projects is Now