DIY Holiday Lanterns to Brighten Your Deck, Fence or Patio Cover
Tis the season to deck the halls, or light the deck, as we like to say. This is a fun time of year to get creative with decorative holiday lights around your deck, fence or patio cover. Here are some unique DIY lighting ideas from our favorite design blogs that will be sure to brighten up your fence or patio cover.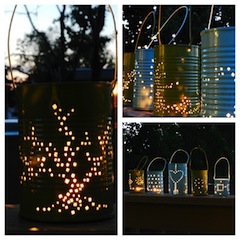 Tin Can Lanterns – With just a touch of kitsch, these do-it-yourself lanterns are affordable, easy to make and look great lining a patio, or hanging from a patio cover or fence. You'll need cans, a hammer, a nail and bailing wire. First gather some empty cans and peel the labels from them. The trick to punching nice clean holes in the cans is to first fill the cans with water then freeze them so they hold their shape. Use a nail and hammer to create any pattern you like. Punch one hole on either side of the top of the can to hold the wire for hanging the lantern. When you're done with your pattern let the water melt out of the can and dry the can completely. Cut a 12-inch piece of bailing wire and twist the ends through the holes at the top of the can. Then use an indoor/outdoor spray paint of your choice to paint the can. Give it several coats. Fill with candles and voila – tin can lanterns! http://growcreative.blogspot.com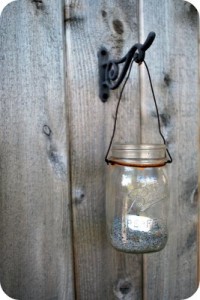 Mason Jar Lanterns – Mason jars make beautiful candle holders and give a nostalgic old-timey feel. Mason jar lanterns are easy to make and look lovely hanging from a patio cover, fence or lining a deck. Simply wind bailing wire around Mason jars, fill with sand, drop in a candle and you're done. For a holiday twist, attach a ribbon or a sprig of holly or mistletoe to the wire. http://chezbeeperbebe.blogspot.com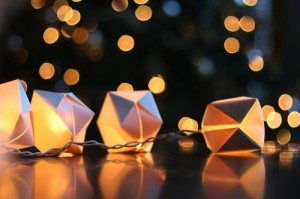 Paper Lantern String Lights – Christmas lights are usually the most common way to brighten up your back yard this time of year. String them through your patio cover and wind them around your support beams or along your fence. Perfect for holiday brightening or for a party. In this DIY post, give your Christmas lights a buoyant paper lantern feel by attaching these easy origami paper cubes to your string lights. Here's how to fold the cubes. Simply fit them around the lights when you're done folding. Use LED lights if you're concerned about fire-hazard. Use classic white or get multi-colored paper for holiday colored lanterns. http://witandwhistle.com/blog/
Check out our DIY Pinterest Board for more great holiday decorating ideas for your A&J fence, deck or patio cover.
Share via social media
/wp-content/uploads/2016/04/logo_darkblue.jpg
0
0
admin99
/wp-content/uploads/2016/04/logo_darkblue.jpg
admin99
2012-12-04 15:58:58
2020-11-26 09:59:15
DIY Holiday Lanterns to Brighten Your Deck, Fence or Patio Cover