Fall is such a wonderful time of year to decorate your deck or outdoor patio. There are many harvest-inspired colors and natural materials available this time of year to play with. Here are a few easy decorations to brighten up your back yard area.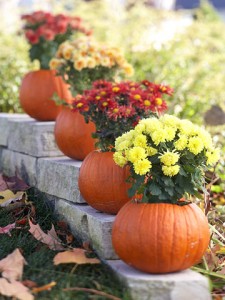 Fall Pumpkin Planters – Hollow out your leftover Halloween pumpkins and fill them with fall flowers or colorful fall tree branches. These bright natural planters look nice lining a patio or along the edge of your deck or retaining wall. The brilliant oranges, reds and yellows draw the eye and are an easy and affordable decoration. Use a glass vase or jar on the inside of the pumpkin to hold the water and allow your pumpkins to last longer. bhg.com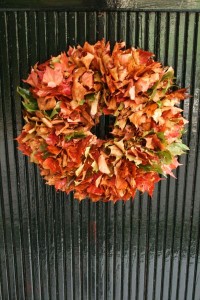 DIY Wreath with Fall Leaves – Do you have lots of colorful fall leaves littering your back yard? Don't throw them away. Gather them up and make bright seasonal wreaths. All you need are leaves, a Styrofoam wreath ring (you can find this at any craft store) and a hot glue gun. First collect lots and lots of leaves. TIP: to preserve the bright fall colors soak stems in a solution of 1/3 glycerol and 2/3 water for a day or two. Spread leaves out to dry until thoroughly dried. Glue leaves onto the wreath ring one by one so they are tightly bunched. Hang along your fence or door for beautiful natural fall colors. chezlarson.com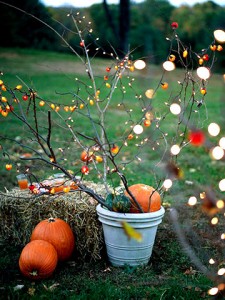 Fall Festive Lights – Create an arrangement of fall branches, gourds and pumpkins, place them in an empty planter or wheelbarrow and drape them with holiday lights. Use white lights or orange hued lights. Position bare branches with rocks or potting soil to hold them upright then place small pumpkins and gourds in the top of the planter. Drape the lights over the branches and pumpkins. You can position this arrangement in the corner of your deck or patio and string holiday lights around the rest of the patio or create several arrangements as focal points. bhg.com
Check out our DIY pinterest board for more fun fall decorating ideas.
*Fall decorating ideas adapted from bhg.com and chezlarson.com.
Share via social media
/wp-content/uploads/2016/04/logo_darkblue.jpg
0
0
admin99
/wp-content/uploads/2016/04/logo_darkblue.jpg
admin99
2012-11-28 16:20:51
2020-11-26 09:59:19
Natural DIY Fall Decorations for Your A&J Fencing Deck or Patio