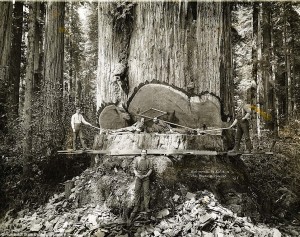 These photos of loggers in the California redwoods of the 1800s are astounding when you consider the giants that small men could bring down. Forests were often felled in clear-cut swaths across hundreds of acres using only manpower, saws and teams of horse or oxen. While breathtaking to see such photos, clearly the results were disastrous for the environment.
Today, thankfully, California's forestry regulations are considered the most stringent in the world. California sets high standards for sustainability and resource conservation. The majority of logging operations undergo third-party certification programs in addition to the mandatory requirements of California's Forest Practices Act, recognized as the most thorough timber harvesting regulation in North America
Roughly 90 percent of product-producing redwood forests are certified sustainable under the Forest Stewardship Council (FSC) or the Sustainable Forestry Initiative (SFI) programs – the two most widely recognized certification program, according to calredwood.org.
Four of every five acres of commercial redwood forest are now independently certified by either the FSC or the SFI, as well as managed and harvested on a sustainable basis. There are 1.74 million acres of Coastal Redwood forests on California's north coast. About 26 percent are preserved in national, state, and municipal parks, national monuments and lands where harvesting is prohibited. Of the remaining 1.29 million acres where harvesting can take place, 80 percent are currently being well managed according to the independent third-party certification programs that include FSC and SFI.
Forest certification provides consumers with the assurance that the redwood products they purchase have been harvested in an environmentally sound manner. The basic principles include:
sustainable forestry
prompt reforestation
protection of water quality
enhancement of wildlife habitat
minimizing the visual impact of harvesting
protection of unique sites
improvements in wood utilization
When you choose redwood, you're choosing natural wood from sustainable forests. This is important to us at A&J Fencing as we provide redwood fencing and decking to clients throughout the Bay Area. We believe that redwood is the best choice for fences because of its natural resistance to rot and decay and because it is a sustainable California product. Its inherent resistance makes redwood the perfect choice for those who want a naturally beautiful and long-lasting fence.
*Photo is part of the Ericson Collection, a series of pictures from northwest California from the 1880s through the 1920s by Swedish photographer A.W. Ericson.
Share via social media
/wp-content/uploads/2016/04/logo_darkblue.jpg
0
0
admin99
/wp-content/uploads/2016/04/logo_darkblue.jpg
admin99
2012-09-20 17:43:06
2020-11-26 09:59:44
Redwood You Can Feel Good About – Redwood Timber Third-Party Certification Programs